Experienced business financing strategists to secure your venture capital
Raising funding is crucial to develop your technology and build your company. To ensure sustainable growth, it is essential to take control of all critical elements to secure financing, including a well-defined development plan, solid financials, a clear business case, and a thorough IP strategy to achieve your company goals. 
Our team of PhD-level consultants is specialized in understanding the science behind life science innovations and translating this into strategic venture development plans that raise funding. In combination with our team of serial entrepreneurs in the life sciences sector, we understand how business success thrives on a range of financing sources and investors that bring more than just money to the table. Yet, being in control of strategic development and value creation is critical to ensure long-term success.
The mission of our venture financing strategists is to develop a sound financing strategy with the right mix of financing instruments to advance your company's development, products, and goals. We do so by acting as an extension of your management team and providing strategic operational management with an all-round view of the specific aspects and challenges of your venture. Our working methods and high success rate stem from our close personal connection with our clients and passion for the technologies that they aim to bring to the market.
Strategic venture financing
Strengthen your business strategy by securing a tactical mix of financing
Strategic approach to enable sustainable growth and market impact
Business financing strategist as a service
Extend your team with one of FFUND's venture financing strategists to keep control over the full financing strategy and fundraising activities. We help to ensure that you don't miss out on important funding opportunities and are prepared for the next funding round in a timely manner by optimizing your venture valuation to gain traction among investors. Our business strategists ensure that the full fundraising process receives continuous attention and that all required aspects are on your radar at the right time. By being at your side throughout the fundraising processes, we ensure that you tap into all available financing options that align with your company strategy. This will increase your chances of success and save you time and money.
At FFUND, our years of experience as serial entrepreneurs are translated into a streamlined and structured approach, which is used to design and manage the venture financing strategy and fundraising process to ensure efficient and timely access to funds and reduce the time to complete an investment round or deal at an optimal valuation. In coordinating the entire business financing strategy process as a service, we fully understand that every business venture is unique. Your venture financing support team acts as an extension of your management team to save time by providing hands-on support and setting effective timelines, while providing the independent business intelligence to maximize your path to success.
Our strategists make use of the following building blocks, which are interconnected to support each other:
1. DESIGN THE STRATEGIC ACTION AND FINANCING PLAN
Strategic venture financing plan
The company goals, financing need, and types of funding are aligned and used to identify the required actions and timing to successfully secure the required funding for your company. Based on the company strategy, development plan and the financing need, the right type of financing sources are determined, including equity from various investor types (ranging from informal to Venture Capital), grants, loans, and tax-credit options. The financing options are carefully translated into an action plan to enable timely steps to secure your funding and align the impact of the various funding sources on the company goals, shareholders positions, and strategy.
2. SHAPE AND CREATE TO BECOME INVESTOR READY
Arrange and optimize your data room
All the critical documents needed for an investor to perform thorough due diligence need to be prepared before the financing round starts. This data room contains all the critical elements for investors and our team to evaluate your company.
Based on the analysis of the business plan, discussions with your team and a thorough analysis of the data room, we identify the critical aspects of your business. Just like a critical investor, we identify the strong as well as the weak spots of your business. Based on this analysis, we will provide advice on how to optimize your data room in order to strengthen your business case and polish your business plan.
Strengthening your data room
We deliver the market insights and business intelligence you need to present your proposition to investors, including essential documentation: a market survey, competition analysis, presentation of the IP strategy, exit strategy, and funding plan. Our high-quality and recognized reports are based on business intelligence from proprietary databases (incl. GlobalData), in-house business expertise, and our warm network in the life sciences and health.
Polishing your business plan and pitch
We transform your data and company goals into an attractive business proposition that meets specific investor requirements and allows you to effectively present your company story and goals. An investor-ready business plan will increase your chances of making contact with investors and securing your equity financing rounds.
Independent company valuation
We deliver an independent company valuation that is based on business intelligence, proprietary databases, and valuation methods (such as comparables and discounted cash flows). Through an expert advisory session, we also ensure that you speak the language of your potential investors and are well prepared to negotiate deal terms and structures with investors and deal partners.
3. SECURE INVESTMENTS AND RAISE FUNDING
Equity fundraising support
We provide hands-on support to steer you through the fundraising trajectory to prepare the data room, business plan, and get a seat at the table with the right investors. We will identify the right investors for your company using a targeted approach to select the most promising opportunities.
Non-dilutive fundraising support
We provide hands-on support to secure your grants, loans, and tax-credits in alignment with the venture financing strategy.
Successful financing entails sound project management and reporting to the parties providing the funds. Our experts keep the timelines, organize meetings and events for consortia, and ensure all reporting is developed in time and on a par with the requirements of the funding agencies.
Deals, Merger & Acquisition Support
A lucrative Merger & Acquisition transaction marks the success of all the efforts made over the years. Leveraging our wealth of experience in managing life science M&A deals, we can identify commonly occurring hurdles in an early stage and ensure that deals are closed as efficient as possible.
BUSINESS FINANCING STRATEGY BY FFUND
Establishing your position in the market
We use our expertise and experience in Life Sciences to determine your optimal position in the market. Starting with a GAP analysis, we identify your investor readiness towards various investors and funding sources, and the path to successfully attract the funding. By establishing the true value of your product, combined with the company and technology development plan, we provide advice, design the optimal financing strategy, and define the strategic action points to secure funding.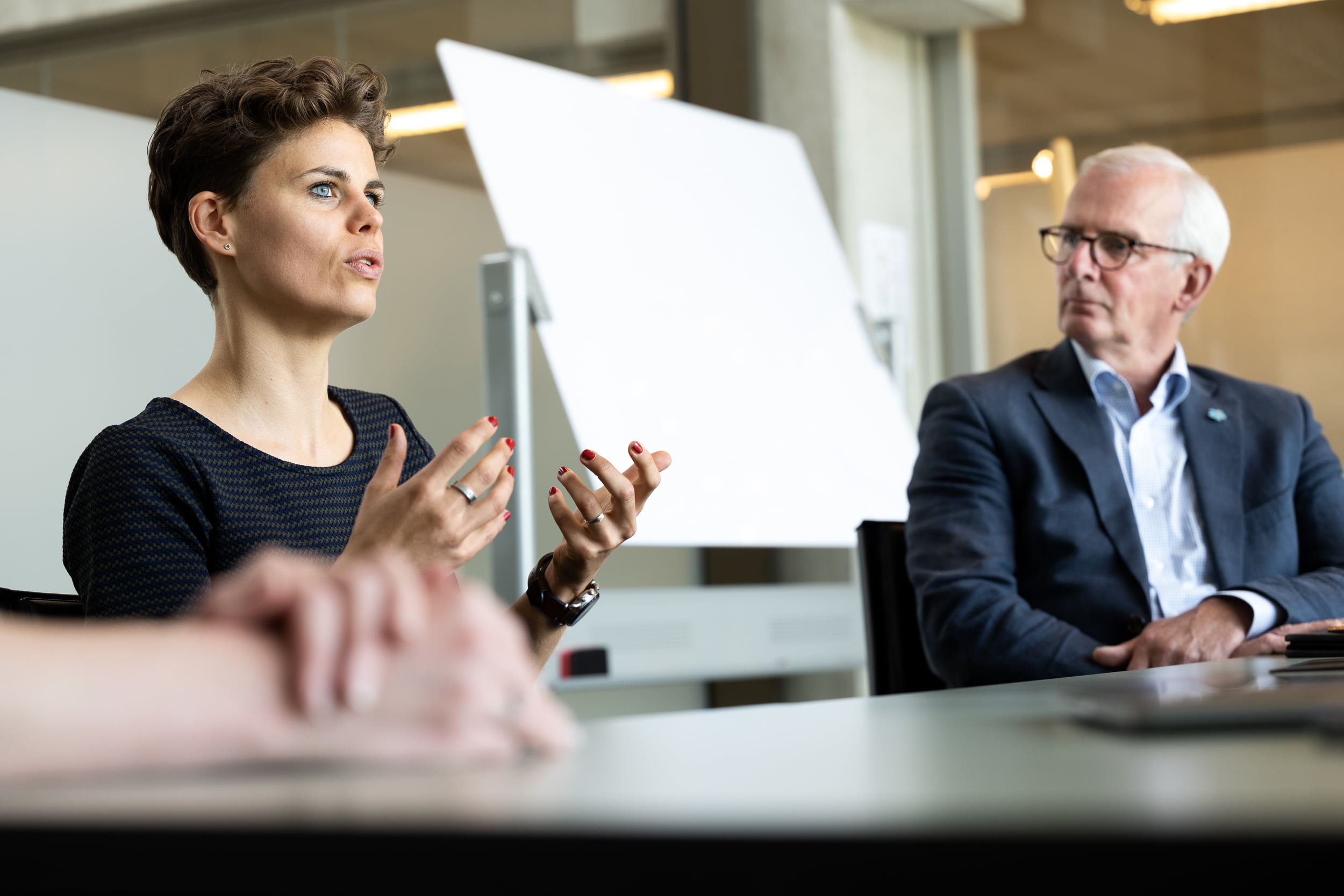 Our experience as entrepreneurs
made available to entrepreneurs
"FFUND's input was pivotal in optimizing our proposal, as their knowledge on how to address key elements of the business case was essential to the awarding of the grant."
COO & CTO, Allero Therapeutics
"We need this large-scale network to answer important questions that can improve healthcare for cancer."
coordinator of the consortium STRONG-AYA
"My ambition is and remains to cure type 1 diabetes. With this Eurostars project we will be one step further in this process and hopefully find a solution for millions of patients suffering from this condition."
"FFUND connected us to international partners that proved very valuable in developing our microbiota-based product to prevent type 2 Diabetes Mellitus. To this day, their development plant and the awarded Eurostars funding drives our innovation project."
"The ultimate goal is the widespread clinical use of our meniscus prosthesis to relieve patients from their pain. Once the first medical trial is completed and we can start to help patients, our dream will come true."
VP Marketing & Market Access, AtroMedical
"Accurate testing should be easy and accessible. This innovation will provide test results for four common STDs in minutes, to anyone, and without the need to leave home."
CEO & Co-founder, Testmate Health
"At Longfonds we aim to accelerate the development of solutions for patients with lung diseases. Our collaboration with the biotech experts of FFUND and their proactive IP management enables us to effectively reach our goals."
The latest news and articles related to Venture Finance Management
Understanding the shifting dynamics in biotech funding
Increase your fundraising success by understanding the dynamics of the venture capital landscape
What Nikola Tesla's lost innovation can teach today's Life Sciences entrepreneurs